Workout Today: 5.1 miles on Minuteman Trail, ran with new group 45:05 (includes stopping to make sure we weren't lost and wait up for rest of group). Then quick weights session: 3 x 20 reps of upper body workout shoulders,abs,triceps & biceps. Some squat and single leg squats. Stretching.
---------------------------------------------------------------------------------------------------------------
So yesterday I left you all waiting in suspense for what I
chose to bring to dinner last night
....well, you can wait a few more moments (or scroll down if you are super impatient) because I am going to discuss my first foodie love...I will give you a hint...
Lobsters, it is true...they started my seafood obsession at much too young of an age, and it is an expensive love, now that the rents aren't footing the bill!
Last night was another story though, as soon as I saw this subject line enter my inbox:
"Thursday Night Dinner Returns - Lobsterfest"
I immediately opened, didn't quite read, and replied a prompt YES! I am so happy I did, because I have been craving it since my indulgence a couple weeks ago and Emma is a genius, plain and simple...Emma got the lobsters, and the rest of us pitched into the lobstah fund and brought the booze and sides (I brought dessert of course - second favorite meal).
On a quick side note...our group of friends tries to throw a Thursday night dinner party with various themes at least twice a month...and the staple at each and every one is...the pigs in a blanket :)
OK back to the star of the show....these babies
Whoa hot n' steamy, just the way I like em!
Much better...we played with enjoyed these guys thoroughly!
And then we topped off our overflowing bellies with some of this deliciousness (could I toot my own horn any more?)
Strawberry Shortcake baby...one of thee best summer desserts ever and a summer staple for me for sure! (in all honesty, the biscuit wasn't too awesome - I didn't have my professional biscuit baker Tripp home to help me not screw it up, but what can ya do...soak it in tons of strawberry juicy goodness and dig in - that's what!)
After shoving the last bit of strawberry and whipped cream in my mouth, I had to jet early (is 9:30 still considered early? I don't think so)...to go to bed...woops!
In my defense, I had a plan this morning that I really didn't want to miss and I needed a good 7 hours (would have liked more, but I also love my friends...and lobster). In my last post, I wrote about
needing motivation
to get out and run, and
running partners
are the perfect thing...
My motivation dip usually hits me around the end of the week, when I know I could go for a run or sleep in on Friday, or go for a run or go out to get drinks after work. Cue the LuluLemon ambassador gods, one of the most recent additions to the ambassador listing is a friend I ran my first relay with last year and an amazing runner and running coach, Kristina - she is now leading a LuluLemon endorsed 5-mile trail run every Friday morning through the month of July!!
This was awesome news to me, because when I knew I was going to accidentally sleep in this morning, I had other plans instead! The only tidbit to mention is that this is at 6:30 AM, 30 minutes away, and I need to be awake to drive there (or so the law says) - so yes that means 5:30 AM wake-up (5:45 after snooze a million couple times)!!! If you know me, you know I do not get up at that hour unless there is a race to get to. This morning was different though...I jumped out of bed (after my 5 million snoozes) got ready super fast and jetted to Lexington (extra incentive, it is down the street from my gym and office). I didn't know what to expect, but was happily surprised with a nice little group of runners, a fabulous (well a little muddy because Mass is having a rain issue lately), soft, not too hilly trail run :)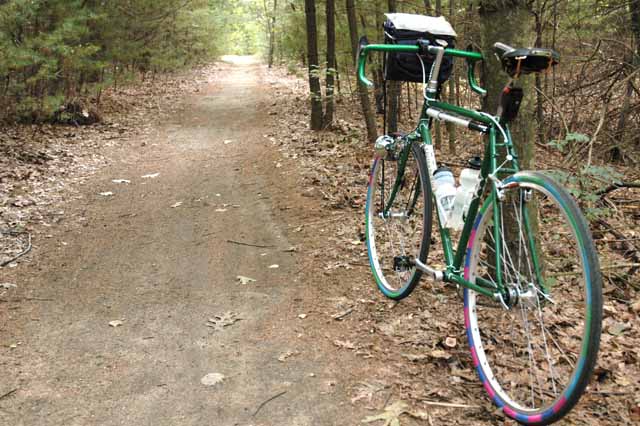 Source: (didn't have a camera with me)
I will definitely be back next Friday, and as long as I am not away for regattas,
I will try to make it every Friday through July
! And you know what? If you live in the Boston area...
I think you should go too
:) It really is a great location with great people, and an awesome sponsor (
LuluLemon
Burlington Mall edition).
-------------------------------------------------------------------------------------------------------
What is your favorite meal ever, doesn't have to be seafood?
I LOVE lobster and gooey chocolate brownies...
Do you have any good trail runs near you?
I didn't think so, but I sense a slight trail obsession that might be coming on....
How do you motivate in the morning to get moving?!
If I know I won't get another chance that day to workout, if I got a lot of rest the night before, if I am meeting someone else to do something and therefore feel obligated to not stand them up :)