That is how I feel today if you were wondering, which you probably weren't, but I will go on anywho...
So last night I did an easy 4 miles on the TM and then headed off to the place of an old love affair (don't worry, Tripp knows all about it) - the field hockey turf at Bentley U (little know fact, mine was the first class to graduate from Bentley University, f.k.a. Bentley College - points for the cool kid). About 30 minutes into what was shaping up to be one of my poorer performances, and a soak fest (it was pouring), I took a semi-graceful digger, and because you weren't there and I don't have a magic picture of it...I will paint the picture for you....
(setting: Bentley turf, far right 7 v. 7 mini-field, lined with those little flat top cones)
It is a free hit coming out from the top of the circle, and I am cutting wide - I get the pass in a perfect position to fire off a sweep hit down low instead of stopping and running with it (my stick almost flat on the ground, sweeping from behind to the front of me while hitting ball). Left foot hits cone of sideline, left foot flies into air, right foot trying to cling to the ground for dear life (sweep hit was successful if you were wondering if I hit the ball in all of this), Danielle flies up and then down hard on right side of body, right foot failed to cling hard to ground....got it?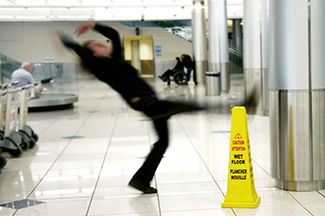 I looked a LOT like this guy...source
Well after this little display, I got a little fired up with embarrassment and had a pretty decent goal on one of the next plays and my stick work improved a bit, score...but...one thing that deteriorated, rather than excelling, was my piriformis (deep muscle in hip - ok in the glutes- that is responsible for hip abduction)...so needless to say, I kept playing and limping a little and playing some more until the 60 minutes was up (you play hard to the buzzer is another
great quote from my coaches
that I can't seem to shake).
Last night, I tossed and turned, today I am grumpy and tired and the limp? Oh it is there in full glory....today my friends, is a mandatory rest day...which wouldn't bug me too much, if the weather wasn't perfect for a run (65 and cool) and this pain in my bum wasn't so crappy....
Also, on the bad news bears feeling
...remember my new
Smith Optics sunnies
I was so excited for and proud of? Well smart Danielle drove off after her LUNA run last week with them on the hood of her car (yes, when I am upset with myself, I refer to myself in the third person).
I felt not so smart when this happened....
To make matters worse, I thought I could try to get a replacement pair and had to deal with a not so nice and not so understanding customer service rep and find my own means of ordering a new pair...
...and a little ticked when I called up Smith...
so now my desk looks like this....
Make new friends...but keep the old...trash?
But it's OK, because once again...
...I feel like this!
I know you all missed my
weird ass
beautiful face the past couple of posts, like
this one
and
this one
...but don't you just love the mexican hat in the background...I have a classy cube you could say....
So what now? I rest, I try not to cry
any more
, I rock my new sunnies (even if I am not running right now), I drink lots of water and big Ibuprofen pills, I do some nifty stretches with names like Pigeon pose and The Clam....and I pray that this spasm/tweak/w/e it is goes away....like before my
long run scheduled for Saturday
! Stay tuned....
-----------------------------------------------------------------------------------------
Have you heard of the Piriformis? Have you ever had Piriformis pain?
Ugh after my first relay last year I had horrible spasms of the piriformis, but my PT friend came to the rescue with a killer deep tissue pain torture and "The Clam" stretch
Have you ever had an embarrassing fall? Doesn't have to be in sports....
haha, funny thing is...I fall all of the time :) some worse than others...